GO TO 139 SQUADRON PICTURES
GO TO ERIK HAZELHOFF
GO TO S/L JIM MALLEY
GO TO S/L ALLAN GEORGE & F/L RUPERT VIVIAN BROAD
GO TO 139 SQUADRON LOSSES
139 (Jamaica) Squadron
Pathfinders

Badge: In front of a crescent a fasces.
Motto: "Si placet necamus" ("We destroy at will").
Authority: King George VI, December, 1938.
The fasces is taken from the badge of No. 28 Squadron to which the necleus flight of No. 139 Squadron was originally attached for a short period following it's arrival in Italy (from England) where No. 28 was then based. This flight was later transferred to No. 34 Squadron (in whose badge a crescent appears) and operated with No. 34 until July, 1918, when together with another flight it became No. 139 Squadron. The bulk of the personnel for No. 139 Squadron was supplied by No. 34 Squadron.
Based at Upwood from: (February 1944 - February 1946)
Type of Aircraft:
de Havilland Mosquito (Late 1942 - November 1953)
Formed at Villaverla, Italy, on the 3rd of July 1918 as a fighter- reconnaissance squadron equipped with Bristol Fighters. Disbanded in 1919, and reformed in 1936 as a bomber squadron. At the beginning of World War Two it was equipped with Blenheims and flew the first RAF Sortie to cross the German Frontier; and it won one of the first two decorations of the war. The first decoration of W.W.2.went 139 squadron and 110 Squadron gazetted simultaneously on 10th October 1939. A
D.F.C. went to Flying Officer A McPherson of 139 squadron in a Blenheim IV N6215 for crossing the German frontier to reconnoitre and photograph the German Fleet on 3rd September. The other went to Flight Lieutenant K. C. Doran of No. 110 squadron who led the first bombing raid of the war against German warships near Wilhelmshaven on 4th September.
After duty in France where it lost heavily the squadron returned to England and reformed and subsequently made many attacks on fringe targets in N.W. Europe including invasion ports and many anti-shipping sweeps.
During the early years of the war, a Jamaican newspaper (The Daily Gleaner), started a fund to buy bombers for Britain. The money Jamaica subscribed was the foundation of the "Bombers for Britain" Fund, to which many other Colonies and Dominions subsequently contributed . Jamaica herself contributed enough money to buy twelve Blenheims by 1941 and in recognition of this service it was decided, in the words of Lord Beaverbrook, the wartime Minister of Aircraft Production, "that Jamaica's name shall evermore be link to the squadron of the Royal Air Force". And so it was that No. 139 Squadron became No. 139 (Jamaica) Squadron,
During December 1941 to April 1942 the squadron was flying Hudsons and was used for general reconnaissance.
139 Squadron was the second squadron to be re-equipped with the Mosquitoes in 1942/43. The Mosquito was fast and highly-manoeuvrable aircraft which made many daring low level daylight and dusk precision attacks on targets in enemy occupied Europe, often in conjunction with 105 squadron, the first Mosquito unit.
In the summer of 1943 139 Squadron changed over to night raiding and joined the Pathfinder Force, its early work with the P.F.F. consisting mainly of preceding waves of heavy bombers to drop Window (thin strips of foil) which confuse the German early warning radar, and also making "spoof" raids on other targets to divert enemy night fighters from the primary target attacked by the "heavies". In 1944 the Mosquitoes of 139 was equipped with H2S during that year the squadron visited a long list of the most famous targets in Germany Berlin, Hamburg, Cologne, Mannheim, Hanover, Duisberg and many others. 4,000-lb "cookies" were dropped on these targets in addition to T.I.'s (target indicators) to guide the main force heavies.
During 20th/21st February to 27th/28th March inclusive, the squadron made a series of 36 consecutive night attacks on Berlin. On 2nd/3rd May, 1945, came the last of the squadron's wartime operations, an attack by 14 Mosquitoes (including Canadian built Mk. XXs) on Kiel.
During the war No. 139 Squadron flew more than 4,000 operational sorties and dropped approximately 1,500 tons of bombs.
First Operational Mission in W.W.2
3rd September 1939
Photo reconnaissance of Wilhelmshaven and airfields in N.W. Germany by one Blenheim.
First Bombing Attack in W.W.2
12th May, 1940
9 Blenheims dive-bombed German troops advancing along the Massstricht-Tongres road. The formation was subsequently attacked by enemy fighters and only 2 aircraft returned. 2 missing aircraft believed to have been shot down in flames. 2 crews later rejoined the squadron after having forced-landed near enemy lines.
Last Operational Mission in W.W.2
2nd May 1945
14 Mosquitoes bombed Kiel.
Bases
Re-formed 3.9.36 as No. 139 (B) Squadron
Wyton Sep1936-Dec1939
Betheniville, France Dec 1939-Feb 1940
Plivot France Feb 1940- May 1940
West Raynham May 1940-Jun 1940
Horsham St. Faith Jun 1940- Jul 1941
Detachment in Malta, May/June 1941
Oulton Jul 1941- Oct 1941
Horsham St. Faith Oct 1941- Dec 1941
Oulton Dec 1941 - ??
Horsham St. Faith Jun 1942- Sept 1942
Marham Sept 1942- Jul 1943
Wyton Jul 1943- Feb 1944
Upwood Feb 1944- Feb 1946
Below are Squadron pictures taken at RAF Upwood

Copyright © 2007 Nick Harris

Copyright © 2007 Nick Harris


Copyright © 2007 Nick Harris

Copyright © 2007 Nick Harris

Copyright © 2007 Nick Harris

Copyright © 2007 Nick Harris

Copyright © 2007 Nick Harris
S/Ldr Malcolm George Harris DFC DFM with F/L Arthur Victor Smith DFC

139 Squadron Print

Copyright © 2007 Nick Harris
S/Ldr Malcolm George Harris DFC DFM with F/L Arthur Victor Smith DFC
Many thanks to Nick Harris (S/Ldr Harris son) for the use of the pictures

139 Squadron Print

Mosquito XD-F of 139 Squadron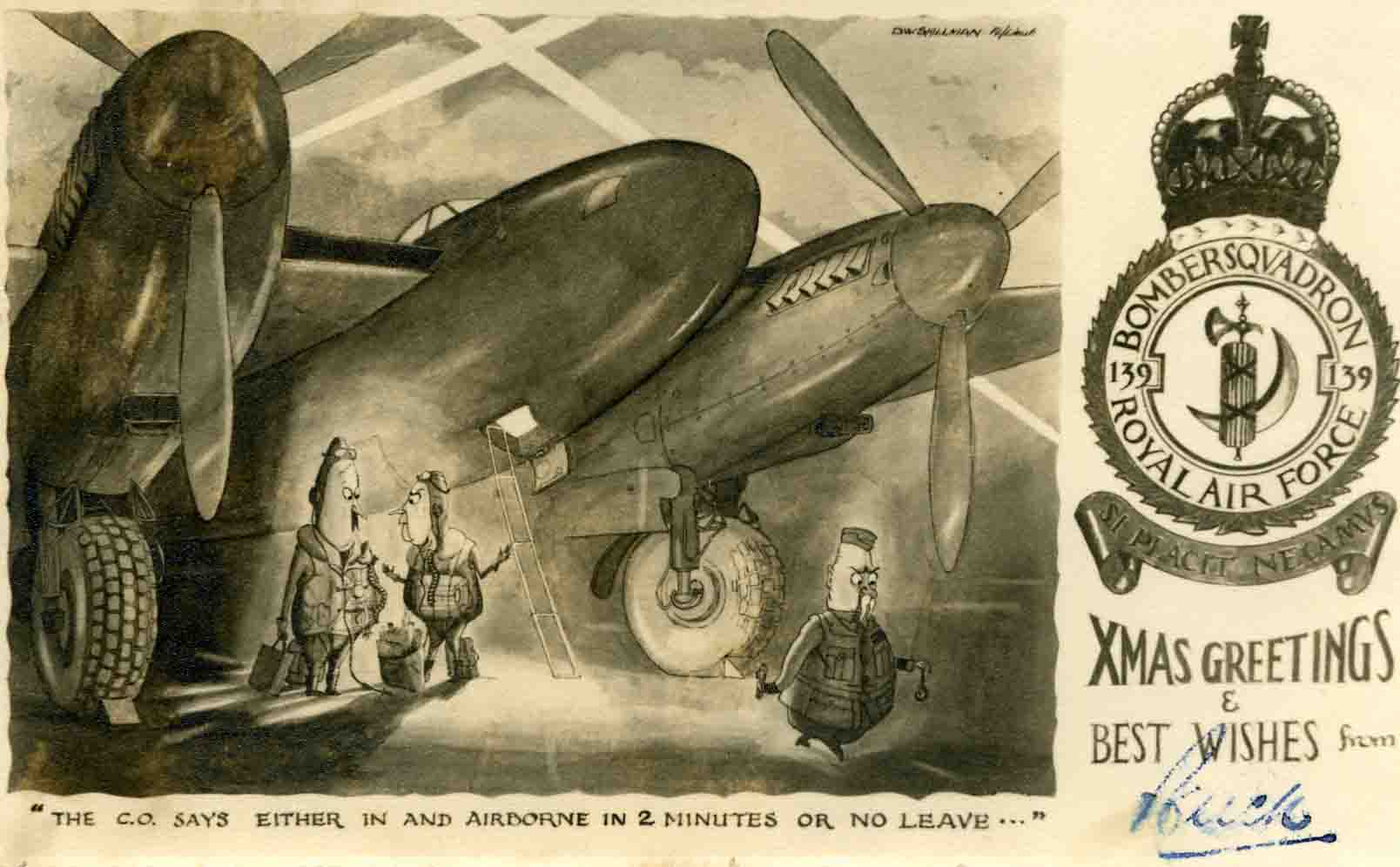 Copyright © 2007 Chris Coverdale

139 Squadron near Hangar 2
Erik Hazelhoff
Made 72 attacks on Germany from RAF Upwood


Words below are taken from Erik's book (In Pursuit of Life)
Often, in course of seventy-two attacks on Germany. Twenty five on Berlin. I had difficulty taking myself seriously. A little man would be observing me from somewhere behind my right shoulder, and I would be myself through his critical, objective and not unhumorous eye. Reminding me who I really was and where I came from. Somehow his presence seemed connected with my furthest past, my boyhood on Java and gradually I came to identify him with old skin-and-bones with red lips who had bewitched my young soul with its first intimation of a spiritual world. He was keeping an eye on me and put his perspective, whenever I felt the need for it, at my disposal. By him I was reminded time and time again, caught in a searchlight over Bremen or after a particularly smooth landing in a snowstorm, that I might be acting like a hot RAF pilot, but that I was really a Dutch student with distant roots and a yen for writing. And by the way, when did I write last? Aren't you wasting a lot of time, a lot of marvellous material?? Are you ever going to produce again??
At last I gave in. I decided to write the ultimate, definitive description of a raid on Berlin in the Second World War. In English. This was a commendable goal, as to all intents and purpose I had only learned the language since joining the RAF, and never written in anything but my native Dutch. Old skin-and-bones rejoiced, and obviously put his mystical powers behind the project. There is no other explanation.
During five consecutive missions on Berlin I observed Q-Queenie and its crew through creative eyes, with attention to detail and conscious memorizing. On return to Upwood I made notes. When I considered my material complete, I borrowed a typewriter, wrote an article and in my innocence applied for a 24-hour leave in which to find a publisher, don't ask whom or how. In feverish spirit I took a train to London, where I arrived in time for a late dinner at Shepherd's Inn. However, traffic was heavy and as I walked in under the marquee the restaurant had just closed.
While I stood swearing and moping, making up my mind where to go at this late hour, some young Americans in civvies walked out and noticed my plight. 'Looking for something to eat?' one asked. When I nodded, he went on, 'we're having a party, just round the corner. Lots of food. Just knock on the door, they'll let you in Number twenty-five, Chesterfield street.'
I walked over to the place, a lovely little West end townhouse, and rang the bell. It was immediately opened by another American, a tall, well built man, who looked somewhat surprised when he saw me. 'Hello,' he said. 'My name is Roosevelt. Come in.' I mentioned the meeting in front of Shepherd's and as we walked into the exquisite hallway, a short, stocky man in uniform joined us. 'And this is Colonel Hoover,' Roosevelt introduced him. I said hello and shook hands around, familiar with the names but unaware of the family implications of the two men before me, FDR Jr and ex-President Hoover's nephew. 'I'm here for the food,' I added.
The party had not yet started, the house was silent. I was obviously the first guest, Roosevelt and Hoover were my hosts. Most graciously they led me to a totally empty room, except for a huge table creaking with the most opulent buffet that even I, as a spoilt Leidener, had ever seen, from oysters and lobsters to oeufs-a-la-neige and strawberries. London in wartime had never before hosted a spread like that. But the room was devoid of any other tables or chairs.
The front door bell rang and my hosts hurried away to answer it. Left alone, I stacked one of the enormous plates with all the goodies it would hold and, by lack of choice, sat down on the floor. Not wanting to be in the way, I installed myself under the table and started my sumptuous meal, not as strange a situation then as it might seem today. After a while other guest came by to load up, as I could see by their legs under the tablecloth, and I had just lit an after-dinner cigarette when a young man, also clearly American, crept down and sat next to me. We chatted a while, then I asked him what the party was about. 'It's a farewell party,' he answered
' Who for?'
' for me. I am flying back to the States tomorrow.'
' And who are you?'
' My name is Bill Hearst,' he answered
Coincidences have meaning. They are system of beacons set out by fate. Some are tough to read, others easy, but they are always well worth attention and respect. Coincidence is Fate in action.
Even I recognized the name of the famous publishing family. I took the Berlin manuscript out of my side pocket ('I happen to have with me,' in truth) and handed it to William Randolph Hearest, Jr, with the request to pass it on to a publisher in New York the next day. He readily agreed, assuring me that, although he had no say about its publication, he would get it to the right person. Then, underneath the table, he started to read the opening lines: Ben Hein is late. He's always late, but never too late. How many time now have we been over Germany together? Fifty-eight? Sixty?...
It was published in Cosmopolitan magazine, the September issue of 1945, in slightly condensed form under the title 'Mosquitoes Sting at Night'. I got 700 bucks for it. After this 'coincidence' I never again doubted that I was meant to write.


HRH Prince Bernhard (center) of the Netherlands, being interviewed by the Dutch TV company AVRO, in 1974 at RAF Upwood for a documentary of Erik Hazelhoff wartime experiences, after his book came out. Erik is on the left in this photo. The Prince flew Erik and the TV crew up from London himself in his Fokker Friendship, they had lunch at the base with the Co in charge, and the Prince told about giving Erik his first flying lesson.
Books by Erik Hazelhoff Roelfzema
In Pursuit of Life



Product details
Hardcover: 384 pages
Publisher: Sutton Publishing Ltd (1 May 2003)
Language English
ISBN-10: 0750932813
ISBN-13: 978-0750932813
Product Dimensions: 22.6 x 17.9 x 3.9 cm
Reviews
Synopsis
This autobiography offers a portrait of one man's truly extraordinary life. It radiates outwards from World War II in which Dutchman Erik Hazelhoff Roelfzema served as a secret agent with the Special Operations Executive, a bomber pilot with the RAF's elite Pathfinder Force, and after receiving the Dutch equivalent of the Victoria Cross, as aide and confidante to Queen Wilhelmina of the Netherlands. His adventures after the war were no less turbulent and spanned the globe - from sales clerk and actor in Hollywood to blockade runner off New Guinea; vice-president of NBC to bum in New York's Central Park; Director of Radio Free Europe for the CIA to oil prospector in Israel - and above all, a writer.


Soldier Of Orange

Product details
Hardcover: 224 pages
Publisher: Hodder & Stoughton Ltd (8 May 1972)
ISBN-10: 0340158441
ISBN-13: 978-0340158449
Soldier of Orange was turned into a film in 1977
Based on the best-selling memoir by Dutch war hero Erik Hazelhoff Roelfzema, Soldier Of Orange became the international breakthrough film for director Paul Verhoeven and stars Rutger Hauer and Jeroen Krabbe, and is still considered by critics worldwide to be one of the most powerful war films ever made.


Many thanks to Erik and Karine Hazelhoff for letting me use the words from Erik's book, and also for sending me the picture of Erik and HRH Prince Bernhard of the Netherlands at RAF Upwood in 1974
SQUADRON LEADER
JIM MALLEY
Pathfinder who flew 127 missions and always felt afraid
JIM MALLEY's service with the RAF during the Second World War extended to a remarkable 127 operations over enemy territory.
One of his first operations was in the Vickers Wellington F for Freddie, which became a national byword after it featured in the wartime film Target for Tonight (1941). His last were in Mosquitoes of 139 squadron in which he flew 53 missions between September 1944 and April 1945, in one case flying on operations on ten successive night. His assignments included more than 30 raids over Berlin, which was the most dreaded target because of the nine-hour flight, the fighter screen and the anti-aircraft fire.
When he resumed his career as a civil servant, Malley achieved distinction a second time when he held the pivotal post in the private office of the Prime Minister of Northern Ireland at a moment in the mid-1960s when Terence O'Neill was attempting a rapprochement in difficult circumstances with the Government of the Irish Republic. It fell to Malley to conduct the delicate negotiations which preceded the groundbreaking meeting of the two Prime Ministers, Sean Lemass of the Irish Republic and O'Neill, at Stormont in January 1965.
James Young Malley was the son of a farmer and merchant. he was educated at Dungannon Royal School and entered the Civil Service in Belfast as a clerk. In 1940 he volunteered for the RAF and was commissioned as a navigator-bomb aimer. Remarkably, he was the eldest of three brothers to fly with Bomber Command. All three survived, in a business where the odds against survival were the most unfavourable of any branch of the Services.
Malley received his DFC in 1941 and a Bar two years later after leading a daylight raid on shipping in the heavily fortified harbour at Tobruk. He was promoted to squadron leader shortly afterwards, and returned to England to take charge of navigator training.
A bid to return to active operations failed on medical grounds, but on appeal a sympathetic chief medical officer-and fellow Irishman- Air Commodore O'Malley, pronounced that, while he could not pass him, he would not fail him. Malley then embarked on his Pathfinder exploits with 139 Squadron from Upwood, Near Peterborough. For this he was awarded the DSO.
When he left the RAF in 1945 he was found to have a damaged lung, but it responded to treatment and he rejoined the Belfast Civil Service.
After the resignation of O'Neill, Malley served as Registrar-General of Northern Ireland for nearly ten years, retiring in 1978. He was also actively concerned with the welfare of ex-servicemen and women.
A tall, gangling figure and modest to a fault, Malley retired from Civil Service in 1979. A dedicated outdoorsman, he was to be seen regularly on the moors of Antrim and Fermanagh, his retriever at his heels, shooting grouse and pheasant.
He once confessed to a friend that he never went on an RAF operation without feeling afraid - and doubted the word of those who claimed they did not.
His wife Sheila died 17 years ago. He is survived by their two daughters.
Squadron Leader Jim Malley, DSO, DFC and Bar, wartime Pathfinder and civil servant, was born on July 24, 1918. He died on June 5, 2000 aged 81.
Words taken from the Times Newspaper 4/7/00

S/L Allan George DFC DFM, F/L Rupert Vivian Broad DFC

Squadron Leader Allan George DFC DFM RNZAF 403441 and Flight Lieutenant Rupert Vivian Broad DFC RAFVR 115721
A RAF 139 (Jamaica) Squadron Crew
Allan George and Vivian Broad served as aircrew on 139 SQDN within 8 Group of RAF Bomber Command from November 1944 to May 1945 flying a total of 40 operational Pathfinder bombing sorties on the De Havilland Mosquito. Vivian passed on in 1991 Allan died late 2014. This brief overview is written to remember them.
Allan and Vivian were just one crew of many but as their generation become ever fewer and they are also now both gone it seemed important to briefly record and to acknowledge the contribution of these gallant men who with the thousands of others served in Bomber Command to defend our freedom and decency. The RAF Upwood website is an appropriate place to do this as particularly Allan considered his service at RAF Station Upwood, on 139 Squadron and that unit's aircraft, the remarkable Mosquito (mainly the Mk XVI and XX variants) as the high point of his life until the end of his days far away in New Zealand at the end of the old Empire whose values he held so dear.
Allan and Vivian both enlisted in the RNZAF and RAF respectively in late 1940. Allan was 22 years old and a farmhand on the family farm situated in the rich dairy country of South Taranaki close by the small town of Manaia. Vivian was 9 years older than Allan and at 31 was already a successful and at the time the youngest ever manager within the UK division of the American based "five and dime" chain store company, F.W Woolworths. Vivian was from near Hastings, East Sussex and immediately prior to his war service was managing the Woolworths store in Penzance, Cornwall.
In 1941 Allan completed flying training at the newly established flying schools at Bell Block, New Plymouth and RNZAF Ohakea. He was awarded his brevet or 'Wings' during February. During early 1941 Vivian underwent training as a Wireless Operator/Air Gunner at Yatesbury, Stormy Downs and RAF Horsham St Faith. By mid 1941Allan had disembarked in UK and was undergoing his conversion on the Vickers Wellington at 20 Operational Training Unit (OTU) at RAF Lossiemouth while Vivian was attending his Wellington conversion on 11 OTU then based at RAF Bassingbourne. In September 1941 Allan and Vivian were "crewed up" with four others and posted to RAF 115 Squadron at RAF Marham to commence their first tour of operations flying the Vickers Wellington (Mks I, II and III).
Martin Middlebrook and Chris Everitt's The Bomber Command War Diaries records that RAF 115 Squadron "carried out most raids, flew most sorties and suffered most losses of any Wellington Squadron in Bomber Command". When the Squadron transferred to the Lancaster in March 1943 it had experienced an overall loss rate of 3.2 percent and 98 aircraft lost while operating the Wellington. That rate of attrition provided only about a 40 percent probability of a crew surviving a tour of 30 operational sorties (see The Science of Bombing by Randall T. Wakelam).
For the period February to May 1942 Bomber Command War Diaries states "The casualty rate for night operations in the next few months would be slightly higher than any previous period of the war and the reports from Germany in this diary will show that there would be as many disappointments in bombing results as successes".
Their aircraft occasionally experienced minor flak damage including holes in the airframe and aerials shot away but Allan and Vivian's crew survived their first tour of 33 operations which was completed in May 1942. Early in the tour on the night of 16 October Allan was awarded the DFM for his management of an emergency. During that sortie both engines of his aircraft lost power (for reasons that remain unknown). He continued to the target which he bombed from a low altitude and unable to maintain level flight his aircraft was descending through 1000 feet at full throttle when he re-joined the circuit at RAF Marham and requested a "straight-in" landing.
Toward the end of the tour on the night of 14 April 1942, their Wellington FX 3675 was hit by flak while bombing from 16,000 feet and the 115 SQDN Operations Record Book (ORB) reports the aircraft was also attacked by a fighter. Severe damage was sustained by the aircraft and the rear gunner was wounded. Damage included fracture of a main fuel line which caused power to be lost by both engines and an attending loss of height. Petrol flooded the fuselage presenting a great risk of a catastrophic fire. Quick-thinking Wireless Operator Vivian Broad immediately used bandages from the aircraft's first aid kit to repair the fuel leak and thus restored power to one engine enabling the aircraft to safely recover to base. (The remainder of the crew on that occasion are named by the squadron's ORB as follows: (Co-pilot: Pilot Officer Rohde, Navigator: Flying Officer Critchley, Front Gunner: Sergeant Beecroft and Rear Gunner: Sergeant Esling) Both Allan and Vivian were awarded a DFC in recognition of their actions during this incident.
The crew had survived the tour on 115 Squadron but from available information (which is inconclusive), it appears that Pilot Officer, later Squadron Leader Rhode DFC and Sergeants Beecroft and Esling did not survive the war and were amongst the almost 56,000 killed while on active service in Bomber Command during WWII.
On completion of the 115 Squadron tour Vivian was posted as a Wireless Operator/ Air Gunner instructor on 11 Operational Training Unit initially at RAF Bassingbourne and then at RAF Westcott when the unit relocated in September 1942. After receiving some further training at Central Flying School Allan was also posted to 11 OTU as a flying instructor where he served until February 1943 when he undertook a RAF Staff Course at RAF Uxbridge. In October he returned to NZ to assume command of one of the RNZAF's technical schools at RNZAF Base Woodbourne (at the northern end of NZ's South Island).
In March 1943 Vivian qualified as an Air Bomber and Navigator and was then posted for his mandatory second tour of operations with RAF 192 Squadron located at RAF Gransden Lodge where the unit operated specially modified Wellingtons and Mosquitoes whose task it was to monitor German radio and radar transmissions to determine not only frequencies, wavelengths and pulse lengths of signals but also the content and purpose of communication. To conduct this task 192 Squadron aircraft occasionally flew within or close to the bomber "stream" but also operated alone over Europe, the Mediterranean and the Bay of Biscay. The work was secret and Vivian was unlikely to have been permitted to discuss it even long after 1945. Vivian flew 25 operational sorties with 192 Squadron. And on completion of his second tour in October 1943 he was posted as an instructor first to Number 1665 Heavy Conversion Unit at RAF Woolfox Lodge and in November to 12 Operational Training Unit at RAF Benson. Vivian was posted to Bomber Command HQ at High Wycombe in February 1944 where he served with the PR section performing factory liaison duties.
The service of both Allan and Vivian would have enabled them both to occupy their ground jobs until the cessation of hostilities as both had fulfilled the mandatory requirements of the RNZAF and RAF respectively. It is not clear how the next stage of their career as a crew was achieved because the applicable file has apparently been "purged" of that part of the record but in October 1944 Allan had returned to UK and both Allan and Vivian commenced their Mosquito conversion with 1655 Mosquito Training Unit at RAF Warboys At the end of the month they were posted to 139 (Jamaica) Pathfinder Squadron within 8 Group at RAF Upwood where until the last bombing sortie in May 1945 they flew together on 40 raids with AVM Bennett's Light Night Striking Force (LNSF) including 20 sorties to Berlin during March and April 1945. On 30 March 1945 their aircraft was attacked by a Me 262 which fired just above the aircraft from astern.
Not much is known about the detail of the crew's time with 139 Squadron except in Allan's scarce available record he expresses his pride at being part of the RAF's effort within 139 Squadron, flying as a crew with Vivian and operating the Mosquito which could carry about the same bomb load as his Wellington but at 170 MPH faster, 300 miles further and at twice the altitude while handling beautifully (when everything was going well). At war's end Allan had flown 73 operational sorties and Vivian just short of 100. They were both awarded their highly valued Pathfinder Badge on 18 May 1945.
Allan was posted to South East Asia Command in July 1945 where he met and in 1946 married a WAAF, Frances Low who had served most of the war within the operations rooms of 11 Group Fighter Command. Frances had lost her first husband Flying Officer John Charles Low RAAF over Normandy when he was shot down in his Mustang while serving with RAF 168 Army Cooperation Squadron just after D day in 1944. Allan persevered in the peacetime RNZAF until 1955 when he returned with Frances and a large family to the family farm where they lived until both passed away in 2014.
Vivian had in late 1943 also married a WAAF Operations Room specialist, Section Officer Beatrice Fanny Jean Baker.
After serving with RAF 162 Squadron at RAF Blackbushe performing the post hostilities Air Despatch Letter Service (ADLS) which required the timely delivery of correspondence throughout the European theatre Vivian left the RAF in October 1945 and returned to his successful business career with F.W Woolworths.
The odds of Allan and Vivian surviving their exposure to operational risk in Bomber Command were very small indeed. The continued mental strain of enduring that pressure and then "going again" immense. They endured and fought a terrible battle night after night. They were amongst the pick of their generation. The effects of loss of those who died or were wounded in Bomber Command is immeasurable. The enduring scars on those who survived generally unrecognised. Allan and Vivian were one crew amongst thousands who went out and did what had to be done for the survival of Britain and Allied victory.
Crispin George CAPT AM RAN Retd April 2015

Motto: "Despite the elements"



115 Squadron



115 Squadron
DFM and DFC Citations (in date order)
SGT Allan George NZ.403441 R.N.Z.A.F., No 115 Sqn.
This N.C.O., flying a Wellington Mk.II for the first time, was detailed to attack a target at Duisburg on the night of 16/17th October, 1941. Soon after crossing the Zuider Zee at 13,000 feet, both engines commenced to lose power and the aircraft would not maintain height. In spite of this, Sergeant George continued to the target area and was forced to drop his 4000lb bomb from 9,000 feet. His aircraft was subjected to most accurate and intense anti-aircraft fire and due to the fact that he could not afford to lose any more height, little avoiding action could be taken. By the time he was clear of the Ruhr area, height was only 7,000 feet. He was further handicapped by an unserviceable radio transmitter and nothing was heard until the aircraft contacted on the base R/T when Sergeant George coolly said he must land immediately because he was at 1,000 feet and could not maintain height. This he carried out safely even though he was slowly losing height in the circuit at full throttle. Subsequent technical investigations have determined that with full throttle, both engines were giving only 3lbs. boost pressure and 2,200 revs; both engines are now being changed. The above is typical of the spirit of determination which has been shown by this young Captain in all his sorties. On a previous occasion, his second trip as Captain, the airspeed indicator went unserviceable early on in the outward passage, yet he carried out his mission through to a successful conclusion when a less determined individual might well have abandoned the effort. The N.C.O. is an exceptionally able bomber Captain and his courage, initiative and resource without doubt have had a marked effect on the younger members of the squadron. Recommended for the award of the Distinguished Flying Medal. Dated 18 October, 1941.
P/O. R. V. BROAD. R.A.F.V.R., No.115 Sqn. This officer is an extremely efficient first wireless operator who, apart from his primary duties, is fully conversant with many of the duties of the remainder of the air crew. On a recent sortie he displayed great coolness and resource when a shell splinter broke the main pressure feed fuel pipe and petrol was being lost at the rate of two gallons a minute. P/O. Broad held the severed pipe together until help arrived from other members of the crew. He then spent half an hour effecting a temporary repair, working in fumes which, at times, made him sick. Although it was impossible to stop the wastage completely, his effort effectively reduced it. For the next two hours he took turns, with the navigator and second pilot, in holding the binding tightly together. P/O. Broad has participated in attacks on many highly defended targets, including Brest, Wilhelmshaven, Hamburg, Kiel and Cologne. He is a keen and courageous officer.

Motto: "Si placet necamus" ("We destroy at will")




139 Squadron Pathfinders

139 Squadron Pathfinders Group photo December 1944
Thanks go to Cris George CAPT AM RAN Retd. (son of Allan George)
For all his time in sending the pictures and Information.
139 Squadron PFF losses flown from
R.A.F. UPWOOD in 1944

A TOTAL OF 22 AIRCRAFT DESTROYED in 1944
A total of 24 people died 4 injured and 3 POW's during 1944 in 139 Squadron Pathfinders
139 Squadron PFF flown from Warboys on 15/8/42 to5/3/44
Then came to Upwood on 5/3/44 to 27/6/45



13/14 March 1944 Mosquito IV DZ359 Op. Frankfurt
F/L E W F Wall

T/o Upwood 1932 with strong crosswinds and crashed almost immediately


1st April 1944 Mosquito IV DZ476 XD Air Test
F/S A S C Brown

T/o Upwood 1735 for an Air test, landed fifteen minutes later in strong cross winds. The Mosquito veered from the runway and was wrecked.
6/7 April 1944 Mosquito IV DZ370 XD-U Op. Hamburg
F/O Andrew Mackenzie Howden RCAF died Age 24
F/O Frederick Stevens died Age: 32

T/o Upwood 2045. Lost without trace
4/5 May 1944 Mosquito IV DZ646 XD- Op.Ludwigshafen
F/O (Pilot) Graeme Connell Keys DFC RAAF died Age: 33
F/O (Nav./Bomber) Arthur Ronald Hamlin died

T/o Upwood. 2200 Crashed 0132 near Bourn.


10/11 May 1944 Mosquito XX KB161 XD-H Op.Ludwigshafen
F/O (Pilot) Geoffrey William Lewis died Age: 23
F/O Alan John Alexeander Woollard DFM

T/o Upwood 2205, returned at 01.25 On return a flare that had failed to release ignited the Mosquito. F/O J A Woollard the Navigator had bailed out
Note This was the first Canadian built Mosquito XX written off in Bomber Command Service.

DFM

WOOLLARD, Alan John Alexander. 927269 F
L. G. 9/2/1943. Sorties 26, Flying hours 169.45. Navigator. Air2/8934.
Flight Sergeant, No. 106 Sqn
As a Navigator to Pilot Officer Cassels, Flight Sergeant Woollard has performed excellent work during the period of seven months and has taken part in 26 opcrational sorties. He has flown on attacks against enemy targets in the Ruhr, enemy naval ports and has four times navigated his aircraft to Italy, on two of these occasions obtaining photographs of the aiming point. He also took part in the daylight raid on Le Creusot. His accurate navigation has been most in evidence on four mining sorties in the Baltic, one of them as far afield as Danzig Bay. All these mining operations were successful. Flight Sergeant Woollard has performed his operational duties
conscientiously and with great success and he has been in the forefront of the squadron's Navigators over a long period.
31st December, 1944.


19 /20 May 1944 Mosquito IV DX632 XD-G Op. Cologne
F/Lt Albert Edward Meadows died
F/O Reginald James Wright

T/o Upwood 2235, returned at 01.35 While over the target area the aircraft was hit by flak and the Navigator, F/Lt Albert Edward Meadows died. The pilot, Reginald James Wright got the aircraft back to Upwood. Reginald died a week later when he failed return from Ludwigshafen (See Below)

26/27 May 1944 Mosquito IV DZ610 XD- Op.Ludwigshafen
F/O Reginald James Wright died
F/O George Frederick Jarvis died

T/o Upwood 2305 Lost without a trace.


11/12 June 1944 Mosquito IV DZ609 XD-D/O Op.Berlin
F/O Charles Anthony Armstrong RNZAF DFM MID died Age 26
F/O (Nav.) George Leonard Woolven died Age 27

T/o Upwood 2325
No more information

DFM
ARMSTRONG, Charles Anthony. NZ.401368 Flight Sergeant, R.N.Z.A.F.,
No.40 Sqn.
L. G. 15/5/1942. Pilot. Air2/8915.
This airman is an extremely skilful and courageous pilot who has completed many sorties.Throughout, he has displayed the utmost determination to press home his attacks to the full whatever the opposition. On one occasion, in November 1941, he bombed the aerodrome at Castel Benito, setting aircraft on the ground on fire. He then descended to 200 feet and machine-gunned the airfield. On another occasion, he participated in an attack on shipping at Patras in unfavourable weather. Despite the prevailing low clouds, he descended beneath them and released his bombs which burst on the quay, near which three merchant vessels were moored. In an attack on Misurata, his bombs started a large fire. Despite heavy anti-aircraft fire, he descended to 250 feet and machine-gunned transport on the road

11/12 June 1944 Mosquito IV LR505 XD-N Op.Berlin
F/O J R Cassels DFC Interned
F/O A J A Woollard DFM Interned

T/O Upwood 2330 Immediately after Bombing at 0128 The Mosquito was his by Flak in the port engine Crash-landed 0330 near Bollerup, Sweden.

DFM

WOOLLARD, Alan John Alexander. 927269 F
L. G. 9/2/1943. Sorties 26, Flying hours 169.45. Navigator. Air2/8934.
Flight Sergeant, No. 106 Sqn
As a Navigator to Pilot Officer Cassels, Flight Sergeant Woollard has performed excellent work during the period of seven months and has taken part in 26 opcrational sorties. He has flown on attacks against enemy targets in the Ruhr, enemy naval ports and has four times navigated his aircraft to Italy, on two of these occasions obtaining photographs of the aiming point. He also took part in the daylight raid on Le Creusot. His accurate navigation has been most in evidence on four mining sorties in the Baltic, one of them as far afield as Danzig Bay. All these mining operations were successful. Flight Sergeant Woollard has performed his operational duties
conscientiously and with great success and he has been in the forefront of the squadron's Navigators over a long period.
31st December, 1944.
24/25 June 1944 Mosquito XX KB329 XD-L Op.Berlin
F/O William Wrixon Boylson RAAF DFC & Bar died Age 25
S/L George Heath Wilson DSO DFC died

T/o Upwood 0345 Shot down by a night-fighter, they have no known graves

28 June 1944 Mosquito IX ML909 XD-S/Z Op.Training
F/O Thomas Dickinson DFM Injured
F/O Eric Keith Martin DFM Injured

T/o Upwood for training Lost power from Port engine and forced landed

DFM

DICKINSON, Thomas. 1045555 Sergeant, No.148 Sqn.
L.G. 1/10/1943. Pilot. Press Release.
An excellent Captain of aircraft, Sergeant Dickinson has taken part in a large number of operational sorties during which he has consistently displayed tenacity and courage. One night in May, 1943, he remained over his target for two hours waiting for the weather to clear and successfully completed his task although hc finished in semi-daylight over enemy territory. The spirit of determination displayed by him has been a great asset to his squadron.

MARTIN, Eric Keith. 1330767 Sergeant, No.148 Sqn.
L.G. 1/10/1943. Navigator. Press Release.
Sergeant Martin has navigated his aircraft over dangerous mountainous country in adverse weather conditions with coolness and resourcefulness, often reaching his target by sheer determination. This airman by his unflagging enthusiasm and consistent success has earned the entire confidence of his crew.

30 June/1 July 1944 Mosquito IV KB644 XD-V Op.Homberg
W/O (Pilot) Harry Ernest LLoyd Griffiths died Age 23
F/O (Nav.) Leo Wolfson died Age 28

T/o Upwood 2345 Just as they crossed the French coast they was hit by flak
7/8 July 1944 Mosquito XVI MM146 XD-H Op.Berlin
F/L J D Robins RNZAF Evd
S/L (A) B M Vlielander-Hein RNethNAS Evd

T/o Upwood 2300
No more information


26/27 July 1944 Mosquito XX KB266 XD-F Op.Hamberg
F/O (Pilot) Balfour Richard John Hay DFC RNZAF died Age 21
F/O (Nav.) James Dunn DFC DFM died Age 27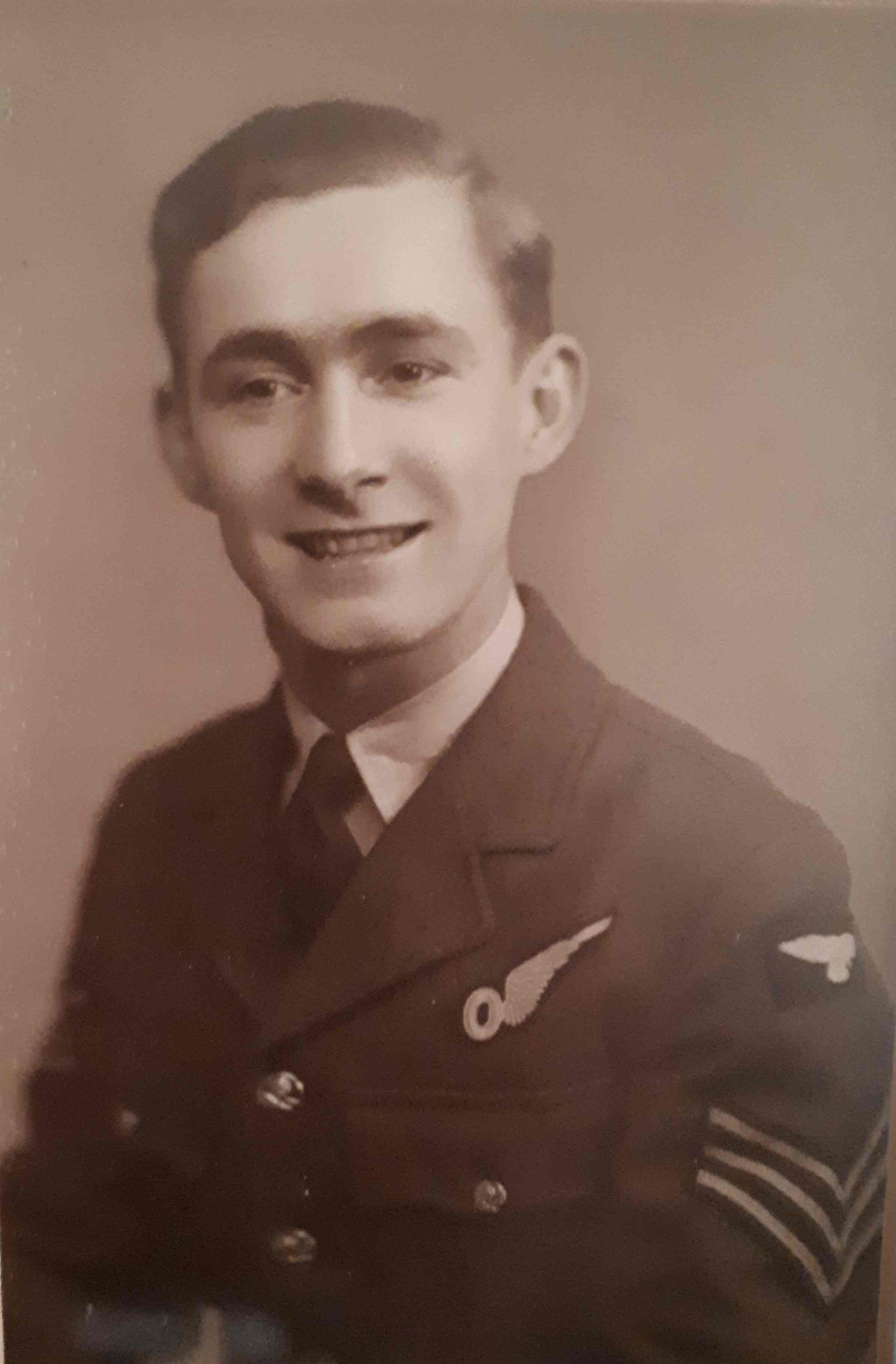 Above is a picture of James Dunn and his Award of the Path Finder Force Badge
Thanks to Erica Blamire for sending the images to me.

T/o Upwood 2235 Crashed at 0020

DFM

DUNN, James. 1128355 Flight Sergeant, No.97 Sqn.
L.G. 13/8/1943. Sorties 30, Flying hours 178.20. Navigator (B). Air2/8974.
This N.C.O. has now completed 30 successful opcrational missions as Navigator. He has taken part in many attacks on the Ruhr and Berlin and other targets have included Milan, Spezia and Pilsen. Flight Sergeant Dunn's navigation is of a high order and has materially contributed to the successes of his crew. He is strongly recommended for the non-immediate award of the Distinguished Flying Medal.
19th June, 1943.
26/27 July 1944 Mosquito IX LR475 XD-Op.Givors
F/O B C Witt injured
F/L R V Dobbs injured

T/o Upwood 2325 Crashed 0410 while making a single-engine approach towards Woodbridge airfield in Suffolk

6/7 Aug 1944 Mosquito XX KB118 XD Op.Castrop-Rauxel
F/O B E Hooke POW
F/O (Nav.) John Stevenson died Age 24

T/o Upwood 2205 I have no more information on this Mosquito

6/7 Aug 1944 Mosquito XX KB202 XD Op.Castrop-Rauxel
F/L John Henry Kenny DFC & Bar died Age 30
F/O (Nav.) Martin Henry Ove Levin DFC died Age 22

T/o Upwood 2215. While trying to land in Fog, overshoot runway and caught fire

12/13 Aug 1944 Mosquito XX KB198 XD-P Op.Frankfurt
F/L T R Fleming RNZAF POW
Sgt D G Gledhill POW

T/o Upwood 2235 I have no more informaion on this Mosquito
11/12 Sept 1944 Mosquito XX KB218 XD-P Op.Berlin
P/O H A Fawcett
F/O P L U Cross DFC

T/o Upwood 2030 Hit by flack which prevented the crew from releasing the bomb load. Crash landed 0110 at Woodbridge airfield
11/12 Sept 1944 Mosquito XX KB277 XD-P Op.Berlin
F/L (Pilot) James Angus Francis Halcro RCAF died Age 22
F/L (Nav.) Thomas James Martin RCAF died Age 23

T/o Upwood 2030 Crashed
13/14 OCT 1944 Mosquito XX KB162 XD-J Op.Koln
F/L (Pilot) Norman Taylor DFM MID died Age 29
F/O (Nav.) Walter Walton Jaskson died Age 31

T/o Warboys 0247 Lost power from port engine and crashed two minutes later. On impact the bomb load exploded

DFM

TAYLOR, Norman. 741688 Sergeant, No.77 Sqn.
L. G. 18/4/1941. Pilot. Air2/8892
This N.C.O. Pilot has completed 31 sorties as a second pilot and Captain during the last six months. He has at all times proved himself a determined and capable Captain who, by his careful preparation and resource has led his crew to the successful conclusion of his many sorties. His quiet manner and his attention to duty have earned him the respect of all members of the squadron.
25th January, 1941

Remarks by Station Commander
Sergeant Taylor has throughout shown the utmost determination to find and attack the primary target. The fact that he has been successful on all but two occasions places him in the highest ranks of operational Captains. His courage and determination have been a great example to all.
Strongly recommended.

20/21 Nov 1944 Mosquito XXV KB392 XD-J Op.Hannover
Capt J Rad RNZAF
F/O Douglas McTaggart Martin DFM

T/o Upwood 2109 Starboard engine surged and the Mosquito swung off the runway and broke up. No injuries

DFM

MARTIN, Douglas McTaggart. 108339 Sergeant, No.148 Sqn.
L.G. 16/2/1943. Sorties 5O, Flying hours 293. Air Observer. Air2/8935.
This N.C.O. joined the squadron on 2nd May, 1942, and since that date has carried out 50 operations entailing 293 hours. During his tour, he has proved himself an efficient Navigator and a steady Bomb Aimer. At the beginning of the push, he was already off operations and waiting posting instructions but came back willingly to operate again and succceded in causing several fire among enemy M/T and tank concentrations. He has set a fine example to the men he has come in contact with.
12th January, 1943.

9/10 Dec 1944 Mosquito XX KB205 XD-N Op.Berlin
F/L (Pilot) Charles Mellville Harrison died Age 30
F/O (Nav.) G H Dodds RNZAF died Age 28

T/o Upwood 2000 Crashed at Little Plantation in Gooderstone Park
139 Squadron PFF losses flown from
R.A.F. UPWOOD in 1945
2/3 Jan 1945 Mosquito XX KB222 XD-R Op.Berlin
F/L (Pilot) James Paul Ogilvie Howard DFC RCAF died
F/L (Nav.) Derek Gordon Williams DFC died Age 25

T/o Upwood 16.40 Crashed at Natho

14/15 Jan 1945 Mosquito XVI MM132 XD- Op.Berlin
S/L (Pilot) Robert Joseph George Green DFC & Bar died Age 24
F/L (Nav.) John Henry Robson DFC died

T/o Upwood 21.05 During extremely poor visibility the Mosquito flew into a tree and crashed 02.00 about 1 mile short of the runway while making a beam guided approach to Little Staughton

14/15 Jan 1945 Mosquito XX KB263 XD-P Op.Berlin
F /L (Pilot) Peter James Drane DFC died Age 22
F/O (Nav.) Kenneth Swale DFC died Age 21

T/o Upwood 21.05 During extremely poor weather conditions the Mosquito Clipped a hedge and crashed 02.15 while trying to land at Thurleigh aerodrome

1/2 Feb 1945 Mosquito XXV KB498 XD- Op.Berlin
F /L M H Wallis
F/O F W Crawley DFC

T/o Upwood 01.57. On return to Upwood the Mosquito overshoot the runway and crashed through a barbed wire fence. no injuries reported.

10 Feb 1945 Mosquito XVI MM189 XD- Ground
S/L C G Killpack

During Engine running at 12.00 the undercarriage collapsed. No Injuries are reported.

5/6 March 1945 Mosquito XX KB271 XD-T Op.Berlin
F /L A O' Grady RAAF
F/L L D Groome DFC

T/o Upwood 18.08 Overshoot runway and Crashed at 20.15 on return to Upwood. No injuries reported

23/24 March 1945 Mosquito XX KB367 XD-D Op.Berlin
F /L (Pilot) Robert Ogilvie Day DFC died Age 23
F/L (Nav.) Thomas Treby MID died Age 33

T/o Upwood 21.20 Crashed at Heesch (Noordbrabant) F/L Day was highly experienced with 82 sorties flown

23/24 March 1945 Mosquito XXV KB390 XD-B Op.Berlin
F/L (Pilot) Stanley Oliver Searles DFC died Bomber command losses states the name as R O Searles, Commonwealth War Graves Commission States its S O Searles. If anyone can tell me, please contact me
F/L (Nav.) Norman Chesworth Berrisford DFC & Bar died Age 29

T/o Upwood 21.21 No more information given F/L Searles was highly experienced with 93 sorties flown


27/28 March 1945 Mosquito XVI MM131 XD-J Op.Berlin
F/L Andre Anton Jan Van Amsterdam DFC Vliegerkruis died Age 28
S/L H A Forbes DFC RCAF POW

T/o Upwood 19.12 Shoot down by Ofw Karl-heinz Becker, in 10./NJG11 and crashed North of Brandenburg. F/L Amsterdam was thought to have been on is 101 operational sortie

A full account of the accident and S/L H A Forbes can be found at this address
http://www.bomber-command.info/memnavforbes.htm
27/28 March 1945 Mosquito XX KB354 XD-C Op.Bremen
F/O D W Rhys injured
F/O F J Kennelly injured

T/o Upwood 19.14 Problems with the VHF radio equipment during the operation. On return to base at 22.54 F/O Ryhs approach fast on landing and ended up in the bomb dump.

2/3 April 1945 Mosquito XX KB185 XD-R Op.Berlin
F/L G A Nicholls DFC died
F/L J E Dawes DFC died

T/o Upwood 22.35 Lost without a trace

3/4 April 1945 Mosquito XX KB349 XD-F Op.Berlin
S/L T R A Dow DFC died
F/L J S Enderby died

T/o Upwood 21.28 Lost without a trace S/L Dow is believed to be on his 65th sortie.
13th April 1945 Mosquito XX KB148 XD-L Op.Training
F/O T L Parsons RAAF

T/o Upwood 17.05 Landed at 17.20 but the Mosquito swerved off the runway and was damaged beyond repair.
13th July 1945 Mosquito XVI PF501 XD-F Op.Training
F/O T Finlay

T/o Tangmere 03.27 Lost control when the starboard engine cut.
20th July 1945 Mosquito XX KB217 XD-H Ground

At 10.00 an air cylinder exploded and damaged the mosquito beyond repair. The pressure gauge at the time was reading 160-lbs per square inch. No injuries.
27th August 1945 Mosquito XVI MM220 XD-E Op.Training
F/O T Finlay

T/o Upwood 15.20 for a cross country exercise, while changing fuel tanks an air lock caused an engine to fail. F/L Finlay decided on a fast approach, but on touch down at 1710 he lost control and the Mosquito was wrecked. Finlay was also involved in a serious accident on 13th July.


Information came from:

ROYAL AIR FORCE, BOMBER COMMAND LOSSES 1944
By W R CHORLEY
ISBN 0-904597-91-1
Midland Publishing
The Supplement to
THE ROYAL AIR FORCE IN CAMBRIDGESHIRE: PART 4
Prepared by John Hamlin
Commonwealth War Graves Commission