Upwood Hill House
Upwood Hill house was built by a Farm owner of the local land before the airfield was built. As far as I know this was never the Station Commanders house. The Commanders house was located at Bury Road.
The house was used by the MOD for accommodation purposes, one family upstairs and another family downstairs.

If anyone has any information or pictures of Upwood Hill House, please contact me.

There are two different plans for this building I have seen on a planning website.
1, Convert into flats and build dwellings around it.
2, Knock the building down and build new houses on the land.

Lets hope the building remains what ever happens.

Upwood Hill house 2011



Upwood Hill House 1970s
Below is a letter to Mr Curtis from the Air Ministry in 1935
17th August 1935
Upwood Aerodrome
Dear Mr Curtis.,
I thank you for your letter of the 14th instant and for the information with regard to the small area O.S. No.167 containing 549 Acres (not 459) which it is observed does not belong to Lord De Ramsey.
I regret there is some little delay in confirming the terms provisionally agreed upon between us at my interview with Lord De Ramsey at the Estate Office on Saturday last, but difficulties have arisen in reaching an agreement with Mr Warth for the Surrender of his tenancy of that portion of Hill Farm being acquired by the Ministry
As you are aware, Lord De Ramsey was anxious to retain Upwood Hill House, with as much of the land as possible, and also to retain Mr Warth as a tenant, and it has been understood throughout the negotiations that Mr Warth also was anxious to remain, in consequence of which the primary object in dealing with the matter on the lines discussed between us was both to meet Lord De Ramsey's wishes in the matter and at the same time to make such provision as would avoid the necessity of Mr Wrath dispersing his pedigree herd of pigs. For this purpose it was part of the terms that Lord De Ramsey would obtain possession of Kingsland Farm for the purpose of letting the same to Mr Wrath and also that Lord De Ramsey would prior to the 1st January next provide Mr Warth with other buildings to take the place of those being acquired by the Ministry.
It appears there is some difficulty as regards an agreement being reached between his Lordship and Mr Wrath, in consequence of which we are unable to make reasonable terms with Mr Wrath and may be faced with a claim by him for the dispersal of his pedigree herd, which I know you will appreciate will materially affect the terms provisionally agreed upon with Lord De Ramsey.
Iam very reluctant, in view of his Lordship's desires on the point, to suggest acquiring the whole of Hill Farm including Upwood Hill House, but am afraid it may be necessary to reconsider that matter on these lines unless a reasonable agreement with Mr Wrath can be reached, and I should therefore be very glad if you would ask Lord De Ramsey to reach an early agreement with Mr Wrath with regard to his future tenancy if he is to remain at the farm, with a view to enabling us to come to an agreement with him with regard to his claim for compensation in respect of the Surrender of his tenancy of that part of Hill Farm proposed to be acquired including the existing buildings.
I am sorry to write you at such length with regard to this matter, but you will, I know, appreciate that it is of considerable importance as affecting the whole position and if you can take the matter up at an early date it will doubtless be of considerable assistance.

looking out the front window



looking out the front window



Front Door, abit overgrown.



Tiled Floor



Inside the Front door



One of the Fireplaces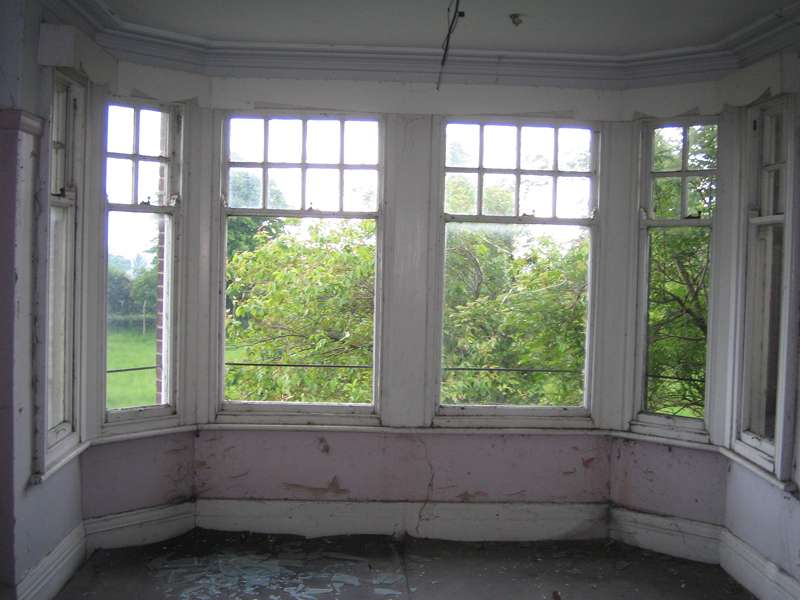 Front Room upstairs



Back window



Back Window

Garage built on the side of the house.
The garage also has an inspection pit so you can fix your cars.

Woodburner for hot water.



Basement with the meat hooks still in the ceiling.

RAF Upwood's station Commanders house 1950s Bury Road
The 'H' blocks accommodation would be just behind the camera man